blog
July 25, 2023
Art is culture and RedCan is taking art to new levels for native youth. As a Native person who experienced the colonial education system and youth programming, growing up, my access to Native art was limited. My experience at RedCan was important because RedCan breaks away from the euro-centric approach to how art is perceived. As Native people, we should all continue to tell our stories and we should continue to encourage the next generation to tap into things like graffiti and learn to immortalize our stories through art.
July 5th-7th, myself and two others from Fresh Tracks attended the 9th annual Cheyenne River Youth Project (CRYP) RedCan Graffiti Jam in Eagle Butte, South Dakota. RedCan Graffiti Jam is hosted by CRYP and introduces the community to humankind's largest art movement: graffiti. RedCan is a four-day long event that brings art and connection to Lakota culture together. RedCan aims to provide meaningful inspiration to Lakota youth and help them discover the profound power of art.
I was accompanied by CJ Goulding, Writing and Training Consultant and Fresh Tracks Youth Leader Niara Frankson, Youth Researcher and Wellbeing Project Consultant. Niara Frankson is a Youth Researcher, researching youth and young adult well-being as a part of Fresh Track's Youth and Young Adult Wellbeing Project. We invited Niara to experience RedCan because of their leadership in the youth and young adult wellbeing space and their personal connection and passion to art.
Fresh Tracks centers on well-being, youth-led change, and community. We are rooted in the healing power of nature and use nature as a framework to create cross-cultural connections. We understand and invest in the power of different communities connecting to learn and share knowledge. This group from Fresh Tracks attended RedCan to learn about a different culture, highlight the power of community, learn about how art and healing are intertwined, and see the connections of art to youth wellbeing.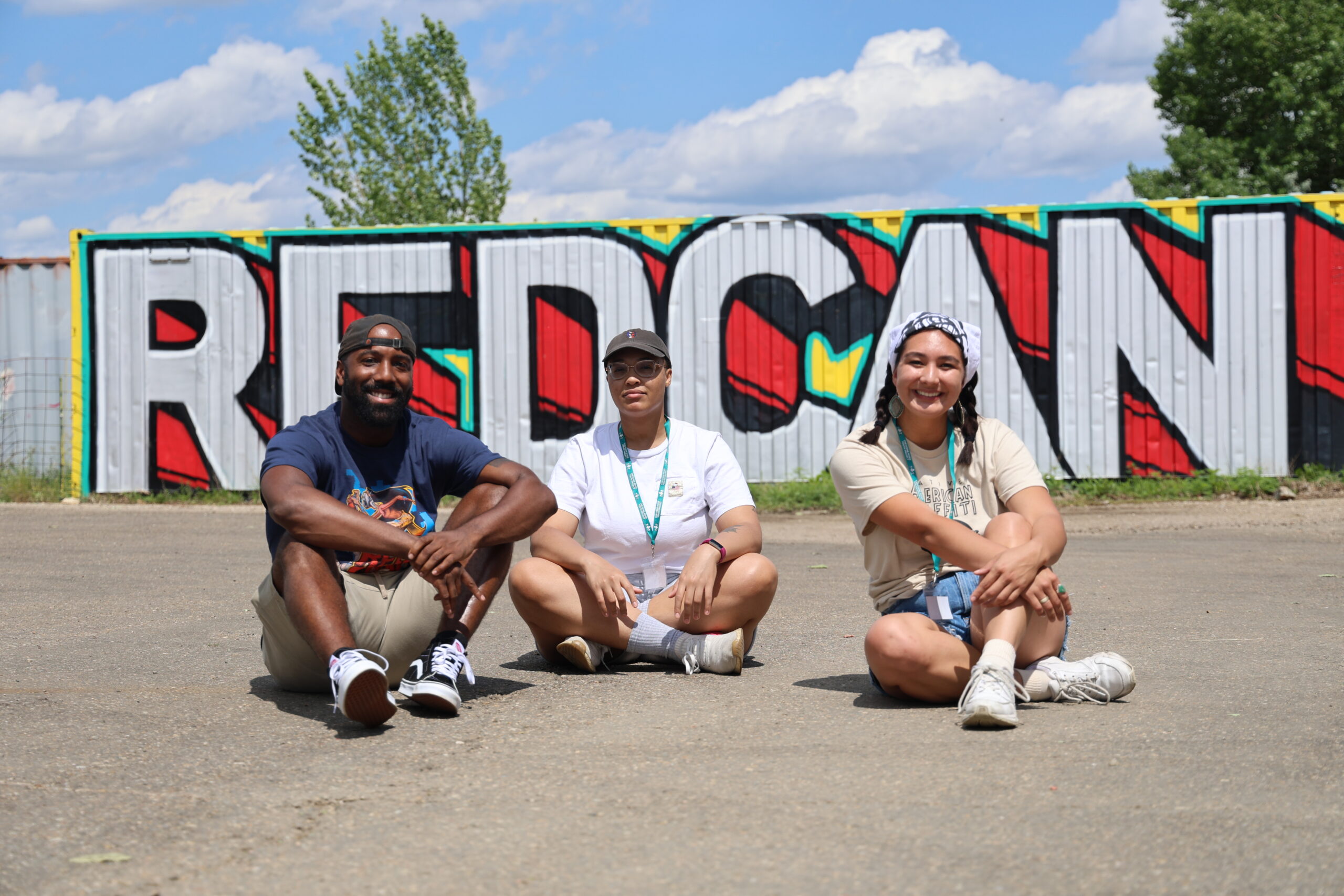 Eagle Butte is a reservation roughly 100 miles to the nearest airport in Pierre, SD which I learned only has two flights running twice a day. The other airport is in the opposite direction located in Rapid City 160+ miles out of the reservation. Growing up, I spent my springs (potlatch season) and summers (fishing season) where my family is from, in the rural community of Emmonak, Alaska. In Alaska we did not have reservations, but villages. To get to any villages along the Yukon Kuskokwim, you had to take a bush plane directly to the village because we were off the road system.  Driving to Eagle Butte was a surreal experience because I felt that same level of distance. I always felt that the lower 48's Indigenous people were so connected to city life, but as we drove further and entered the Cheyenne River Lakota Nation, I realized we were alike. What took roughly 2 hours of plane travel to my village, it took us roughly 2 hours of driving through grassy fields to find Eagle Butte.
Driving into the reservation reminded me of home. Kids were playing outside and riding their bikes, and there were tribal offices and small stores. One big difference was that this community was covered in art, decorated in murals. These murals had Native representations, symbols, and painted words and phrases in the Lakota language. These murals were painted by previous RedCan artists, dating back to its inception in 2015. This year, RedCan invited 10 guest artists to paint large-scale murals throughout Eagle Butte on buildings volunteered by the community. Featured artists at RedCan 2023 were East, Cyfi, Hoka, Biafra, Wundr, 179, Rezmo, TamiJoy, Yukue and Desi Mundo.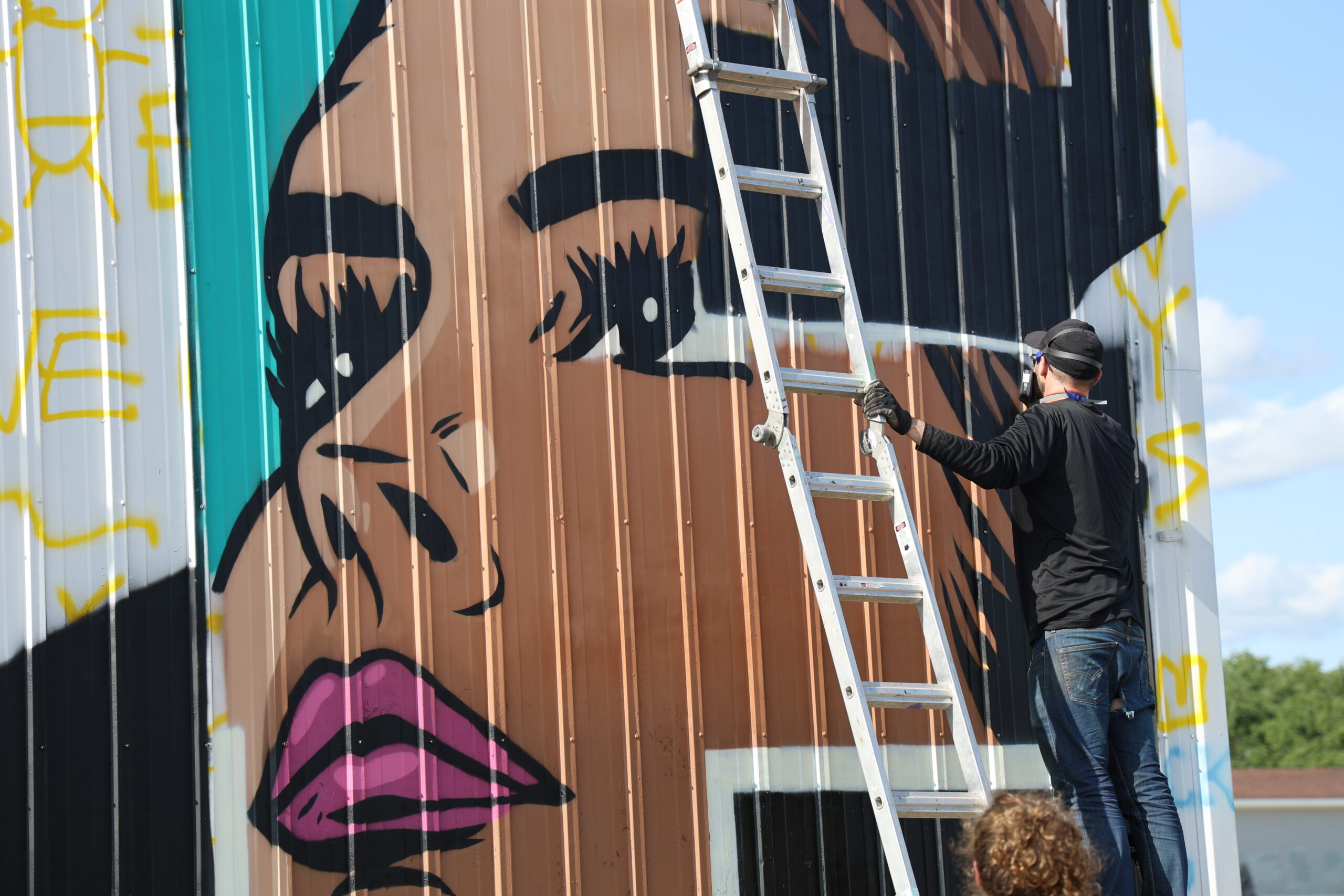 As a kid, when I visited family in other villages, there were no hotels or Air BnB's, so I slept on many floors next to my relatives. At the main building of the Cheyenne River Youth Project, we stayed at The RedCan Village, which is made up of volunteers and RedCan participants' individual tents lined up across their gym floor. It was like a potlatch season in Alaska. We would travel from village to village and stay at people's homes, they'd gladly give us a place to sleep and feed us. CRYP staff and volunteers cooked and hosted dinners each night for the community. Dinners included fry bread, Indian tacos, buffalo soup, and buffalo roast. Food is an important way to be introduced to a culture and through meals you connect with the community. It is a gift to be fed Native foods in a Native community, they are letting you experience their culture with them. I am no stranger to fry bread. Every native community has its own spin, recipe, and look. I was pleasantly surprised to hear Niara, a leader from New York with Trinidadian heritage, had not tried fry bread and this would be their first time. Although it was their first time on a reservation or trying Indigenous food like fry bread, it was not totally unfamiliar.
"What was surprising to me was the similarity in food, the fry bread compared to Trinidadian food "fried bake" was interesting. Fry bread is slightly sweet whereas fried bake is more savory. But both are the product of frying dough into hand-sized discs. It's cool to see different communities across the world doing similar things " – Niara Frankson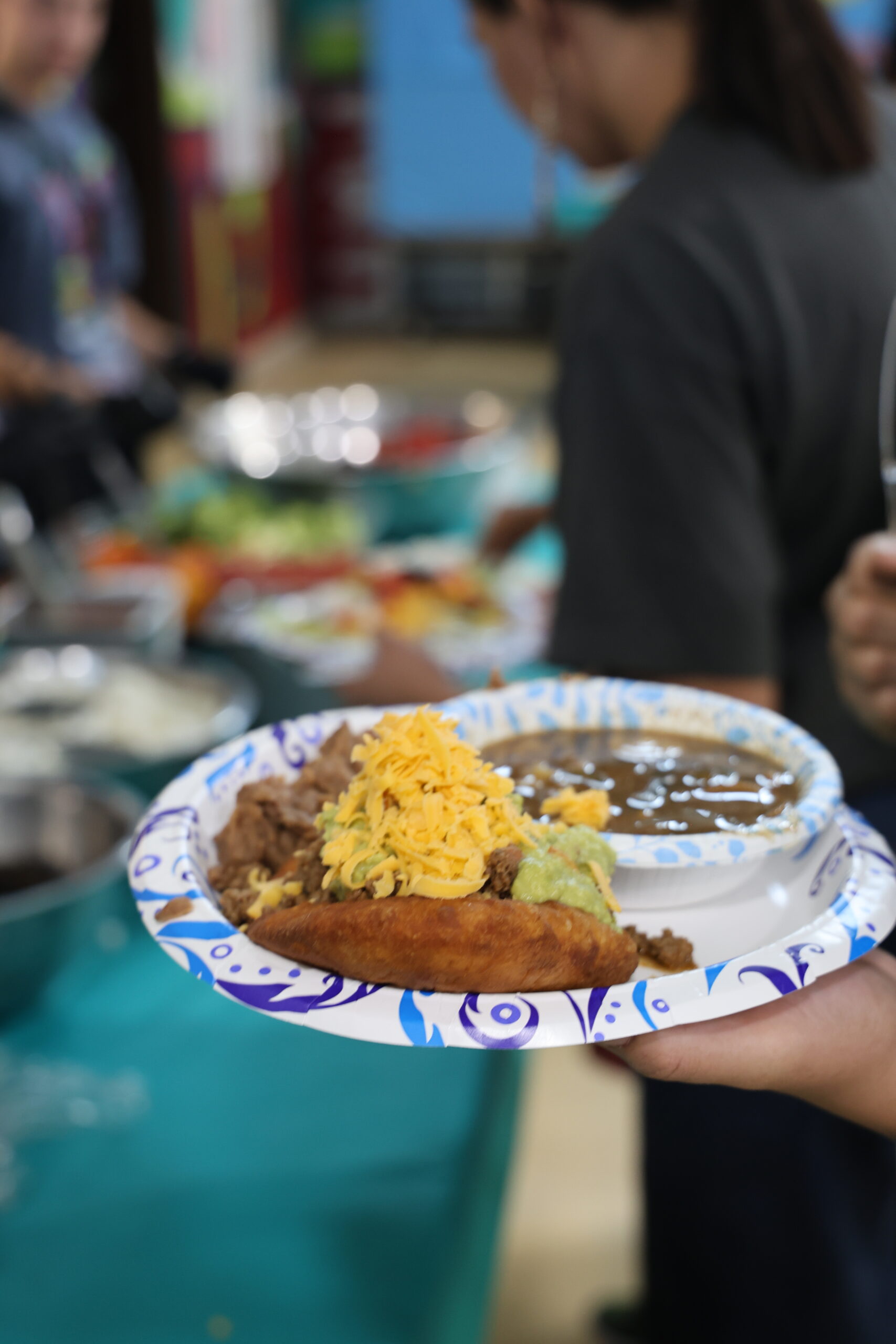 During the four painting days, each artist worked closely with a CRYP Lakota Art Fellow or teen intern and was supported by volunteer assistants. While the artists painted volunteers from Ursuline College and the University of Missouri-St. Louis hosted arts and crafts activities for the youth. On the final two days, RedCan took place in CRYP's Waniyetu Wowapi (Winter Count) Art Park which is an art park located outside Cheyenne River Youth Projects' main building. The Art Park holds space for youth of the community to learn and experiment with spray paint.
The Art Park was filled with white walls for young artists to paint. The park looked so empty at first glance, the walls waiting for a story. Our Fresh Tracks volunteer team walked out with wagons of spray paint and waited for the youth of the community to arrive. After what felt like a long 30 minutes, finally, the youth started flooding in, eager to paint. You could see who was new, what kids were finally old enough to hold the can, and who had participated in the years prior. There were so many different skill levels and different paintings. Exactly what was meant to happen, happened. Kids spray-painted what was on their minds and heart. You could tell what was trendy in the community via brands like Nike being sprayed, what clothing companies were cool, icons and figures, or what messages were on their hearts such as MMIW (Missing & Murdered Indigenous Women), Powwow and youth writing in their Lakota language. In addition to the spray painting and youth art activities within Waniyetu Wowapi, the schedule also included art classes with RedCan guest instructors, traditional Lakota dancing, hoop dancing classes, games, community meals, and live music and performances.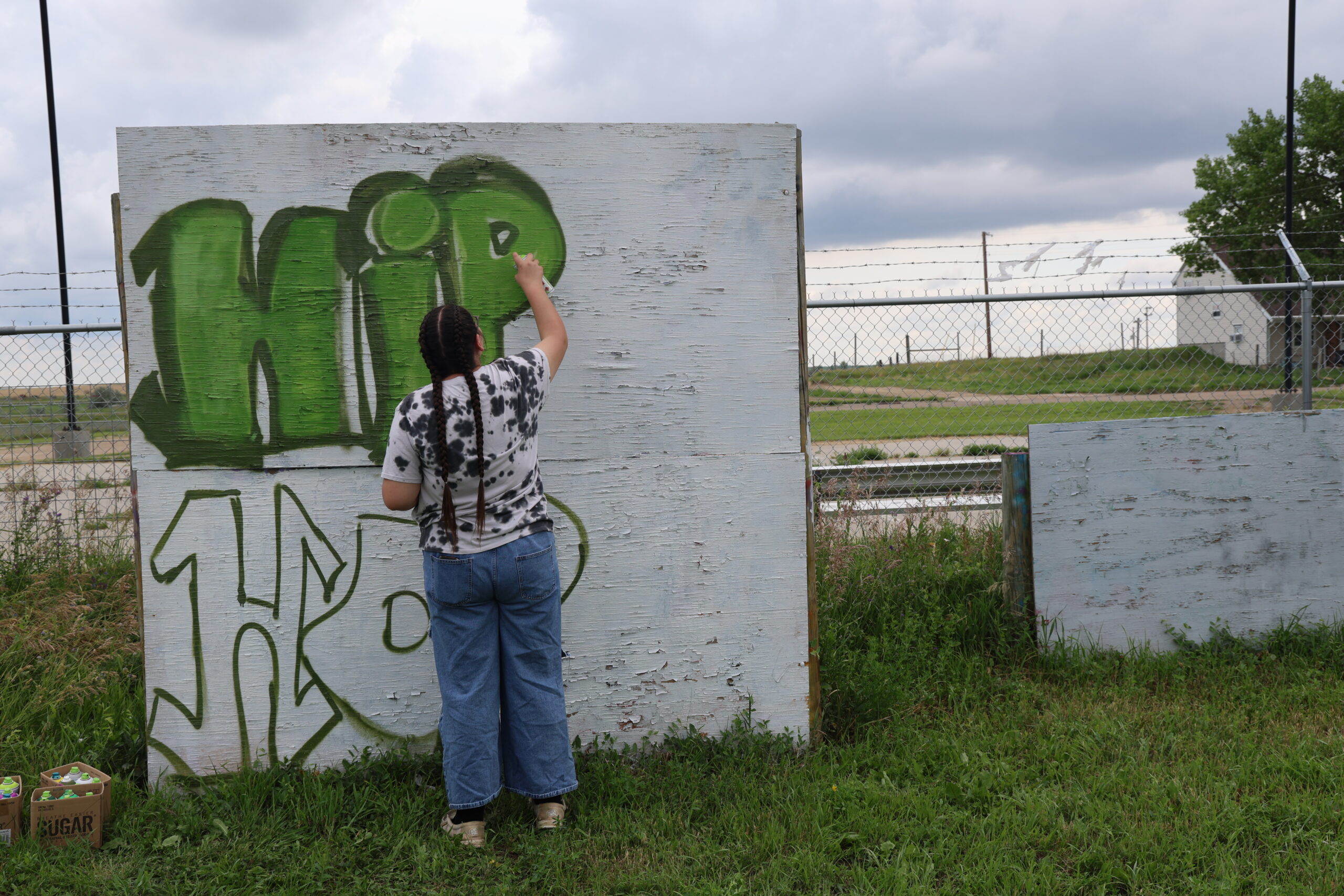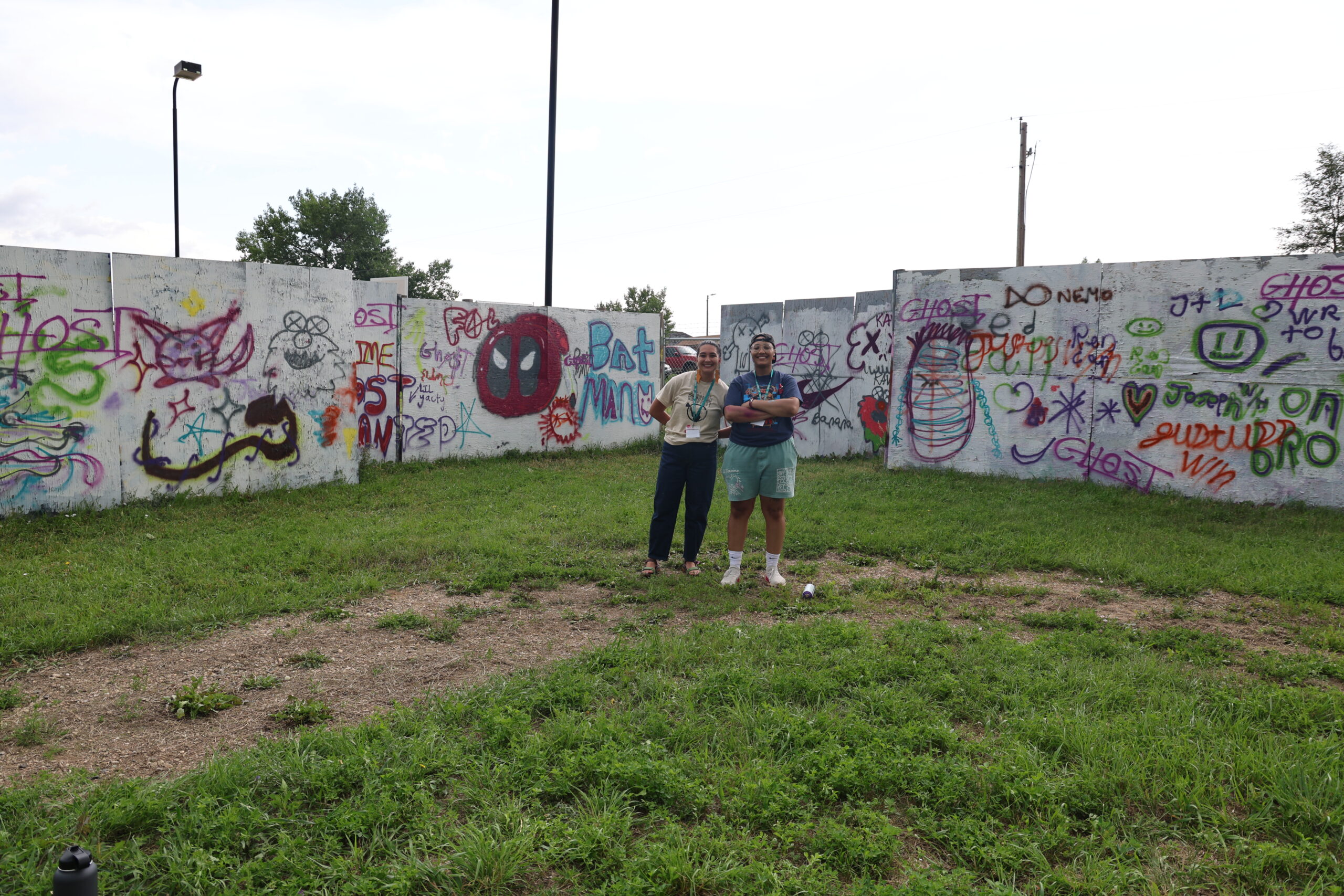 As I watched the art make its way from idea to wall reality, I couldn't help but think: "What if we had this in my community or any community"? Native culture is so sacred and traditional but as our generation and the next generation grow how can we combine Indigenous knowledge and traditions with modern society? Art. Art is a simple answer, as RedCan provides meaningful inspiration for  youth and young people, who are discovering the power of art, exploring their identities, and expressing themselves. Being at RedCan we were able to see how youth connect to art, we were able to see how they found and used their voices through graffiti. We also experienced other art forms such as traditional dance, music and food. When any community comes together and creates space for activities that benefit its well-being, healing naturally occurs.
Going to RedCan was more than just participating in the artistic connection to culture. It created a unique cultural exchange and opportunity for knowledge sharing between different communities. CRYP and RedCan are paving the way for youth programming in communities while also creating spaces for different cultures to connect and learn through their programs. Coming to RedCan amplifies and brings to life Fresh Tracks core values, especially the importance of building connections with other communities and learning about different cultures. We all have things that make our communities unique but when we come together, we have unlimited resources to share, learn, play, and take action. Through this sharing, we can teach each other ways to uplift youth. We can come together to offer solutions and platforms for youth and young adult well-being, and create spaces for our communities to heal.