blog
July 2, 2021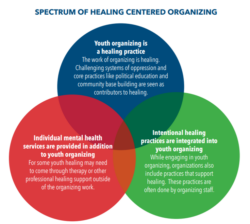 This month, with investment from the Open Society Foundations, and leveraging support from Andrus Family Fund, the Aspen Institute Forum for Community Solutions (AIFCS), a program of the Aspen Institute, launched the Youth-Led Change Fund by awarding $250,000 to five innovative community collaboratives in the Opportunity Youth Forum (OYF) network. Each collaborative will receive $50,000 to pilot projects that infuse the Healing-Centered Organizing principles into their youth organizing and youth leadership development efforts.
The OYF holds a deep commitment to the right of opportunity youth to represent their own interests and design their own solutions to the issues that impact their lives and communities. From its inception, OYF worked to center youth-led change at the core of the opportunity youth movement, and to secure the sustainability of our collective efforts by developing pipelines of engaged, diverse young leaders and organizers who can lead this work for future generations.
The Youth-Led Change Fund seeks to pilot and document strategies that center young people – especially those who are most impacted by oppressive systems – as change agents and lead actors in organizing for greater equity and justice, while also focusing on healing and meaning making practices that support their wellbeing. Through the fund, AIFCS hopes to support a greater integration of community and youth power-building strategies and healing approaches into the work of OYF collaboratives and the field of opportunity youth at large.
The YLCF grantees include:
In addition to supporting youth-led campaigns, community organizing efforts, and solutions to local issues, grantees will provide youth organizers with access to a range of training and skill-development opportunities, as well as activities and support that promote healing and wellbeing.
Youth-Led Change Fund builds on a previous investment from Andrus Family Fund, which supported the development of the Healing-Centered Organizing framework. The AIFCS is grateful to our funder partners for investing in youth leadership and youth-led change.