Opportunity Youth Forum Partner Information:
Opportunity Youth Collaborative: The Road Map Project
Backbones/Lead Organizations: Community Center for Education Results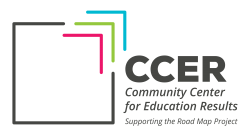 The Road Map Project
There are nearly 20,000 16 to 24-year-olds in the Road Map Project region who are not in school or working. When given the chance, these young people have the potential to contribute to our communities in significant ways.
Road Map Project partners have been working together to create and coordinate programs for young people to reconnect with education, receive a range of wraparound supports, and transition to postsecondary or career training. A growing network of service providers working with opportunity youth has been collaborating around a common vision and goals.
During the 2013-14 school year, there were only three reengagement programs serving 800 opportunity youth. In 2019, some 30 programs are working together as a network.
Areas of Collaborative Focus: K12 Education/Reengagement; Postsecondary education; Workforce.
Joined OYF: 2012
OYF Project Participation:
Opportunity Youth Incentive Fund
Opportunity Works
100,000 Opportunities Initiative ™ Demonstration City
Pathways To Careers
Equity Counts
Future of Work