report
December 16, 2020
The Aspen Institute Forum for Community Solutions has released the 2.0 version of our Digital Summer Youth Employment Toolkit. This resource builds on the initial toolkit from June 2020, and is informed by implementation lessons from 2020's "summer like no other" from communities across the Opportunity Youth Forum (OYF) network and national partners.
Across the country, summer youth employment programs (SYEP) serve an important function in preparing youth and young adults in low-income communities for careers. These programs, which traditionally have offered work readiness preparation, career exploration, and subsidized job placements, improve economic, academic, and behavioral outcomes for young people. The Forum for Community Solutions is committed to deepening and expanding SYEP as a critical piece of the year-round ecosystem of career development opportunities that communities should cultivate.
Summer youth employment programs were especially important this year as unemployment rates have soared, especially among young adults of  color, and the COVID-19 crisis has exposed and exacerbated longstanding social and economic inequity. With social distancing and stay at home requirements, implementing SYEP in 2020 required innovative strategies and approaches among organizations, including a new emphasis on digital platforms, tools and practices. While some communities chose to cancel their programs to prioritize public health and safety and in response to budget pressures, stakeholders in many communities came together to rally around their young people with remarkable adaptability, urgency, and focus.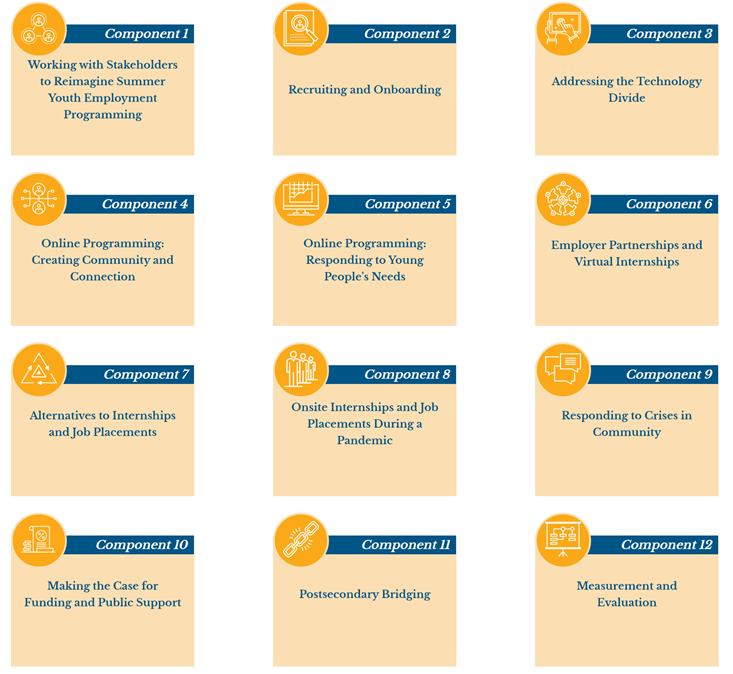 This toolkit is primarily designed for practitioners and systems leaders who implement and oversee local summer youth employment programs planning for 2021. Many of the strategies are relevant for year-round career readiness, training and work-based learning programs in high school or CBO settings. The toolkit also includes calls to action for policymakers, employers and philanthropy.
Access the online toolkit and PDF here.