blog
April 11, 2019
The Aspen Institute Forum for Community Solutions and Neighborhood Funders Group are excited to announce the second cohort of Philanthropy Forward. Launching in September 2019, this dynamic cohort will work together as strategic thought partners on philanthropy's most challenging issues.
With a focus on supporting grassroots power building for racial equity and social justice, Philanthropy Forward is a dedicated space for leaders to organize together and boldly advance the transformed future of the sector. This growing fellowship of visionary CEOs from progressive philanthropic institutions is aligning to build a financial engine for social change.
2019 Philanthropy Forward Cohort (click on pictures for bio information)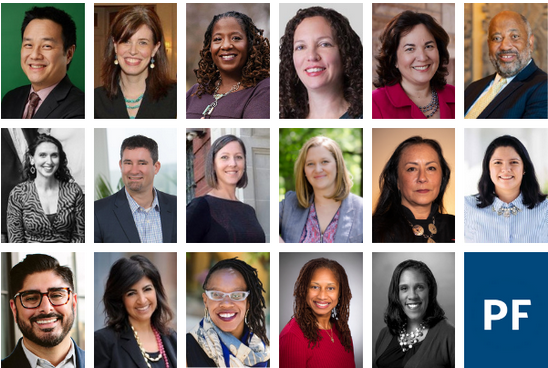 Don Chen, Surdna Foundation
Amanda Cloud, The Simmons Foundation
Michelle J. DePass, Meyer Memorial Trust
Anna Fink, Amalgamated Foundation
Kiki Jamieson, The Fund for New Jersey
Reginald Jones, Jacobs Center for Neighborhood Innovation
Anna Lefer Kuhn, Arca Foundation
Jeff Kutash, Peter Kiewit Foundation
Jennifer Lockwood-Shabat, Washington Area Women's Foundation
Laura McCargar, Perrin Family Foundation
Tia Oros Peters, Seventh Generation Fund for Indigenous People
Alejandra Ruiz, Youth Engagement Fund
Kashif Shaikh, Pillars Fund
Simran Sidhu, HIVE at Spring Point
Lateefah Simon, Akonadi Foundation
Sherece Y. West-Scantlebury, Winthrop Rockefeller Foundation
Teresa C. Younger, Ms. Foundation for Women
Philanthropy Forward: Leadership for Change Fellowship is a joint initiative of the Aspen Institute Forum for Community Solutions and Neighborhood Funders Group. For more information about the program, click here.