blog
October 8, 2014
This blog is the second in a series leading up to the Opportunity Youth Incentive Fund (OYIF) Fall Convening in Aspen, October 27-29. In this piece, Chauncy Lennon, Senior Vice President, Workforce Development, Global Philanthropy, at JPMorgan Chase gives his perspective as a funder and emphasizes the importance of closing the skills gap for opportunity youth. At this year's Convening, he will speak about National Models of Employer Pathways and the critical role employers can play to guide opportunity youth as they progress to and through credentials that will pay off in the labor market. 
Closing the Skills Gap Among America's Youth
By Chauncy Lennon, Senior Vice President, Workforce Development, Global Philanthropy, JPMorgan Chase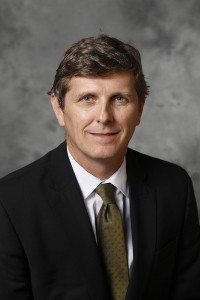 Philanthropy sees the ebb and flow of buzzwords, new ideas, and fads that are going to change the world. But the concept of collective impact is no flash in the pan. Early successes in communities across the country suggest that this approach deserves our attention.
My work at JPMorgan Chase includes overseeing the New Skills at Work Initiative, a five year, $250 million initiative designed to develop talent and teach skills that individuals need to be competitive in the workforce while simultaneously bolstering local and national economies. Through our partnership with the Aspen Institute's Forum for Community Solutions and the innovative Opportunity Youth Incentive Fund (OYIF), I've witnessed the power of collective impact to achieve real change.
The work to transform the lives of 6.7 million opportunity youth between the ages of 16 to 24 cannot occur in a silo. Engaging employers is a critical component of a comprehensive solution that seeks to bolster outcomes for this population of young people. Research conducted by Queens College, City University of New York and Teachers College, Columbia University shows us that each year American businesses and individuals are leaving more than $250 billion on the table in missed opportunities – this figure includes lost revenue, earnings, and increased social services as young people become adults and become further disconnected from the workforce.
Employers are looking for workers who are qualified for the jobs that are available today and will be able to take on the advanced skilled jobs tomorrow. In fact, a recent study from PwC and the Atlantic Council found that more than 50% of CEOs around the world are concerned that workers who lack the appropriate skills could affect their company's long-term growth.
The 21 OYIF grantee communities are working across systems and sectors to ensure young people can transition to jobs that will set them up for success, either after high school, or following the completion of postsecondary education. By coordinating with business owners, hiring managers, and corporate decision makers, organizations can work with opportunity youth to deliver specialized career training that fills the needs for jobs in rural, urban, and tribal communities.
The Hartford Opportunity Youth Collaborative (HOYC) is a great example. This OYIF grantee is connecting young people to employment in fields like health care, construction, and manufacturing through a mix of specialized training, internships, and additional education. These industries are looking for workers right now, and they are projected to grow in the coming years. By asking employers and workforce associations for critical engagement in the design of these career pathways, HOYC is coordinating opportunities that ensure success for young people across the region.
Another good example comes from Detroit, where JPMorgan Chase is supporting the "Grow Detroit's Young Talent" program. This Detroit program is part of the firm's two-year, $5 million commitment to provide summer jobs for more than 4,000 teenagers and young adults as well as learning opportunities in the fields of science, technology, engineering, arts and math for 20,000 13- to 24-year-olds.
Created by the Detroit Youth Employment Consortium, a partner in the OYIF- funded Pathways to Opportunity Initiative, this youth talent program addresses the city's high rates of unemployment among the city's teen and young adult populations, which is estimated at more than 50 percent. With JPMorgan Chase's support, Detroit provided 1,000 Detroit youth, ages 14-24, with employment readiness training and six weeks of paid work with area employers this summer. The program has grown each year, providing more than 5,000 Detroit youth with paid summer work experiences since 2009.
At this year's OYIF Fall Convening in Aspen, I am speaking on a panel with representatives from Hartford, New Orleans, and Santa Clara County, as well as Starbucks Coffee Company about employer engagement strategies and the roles that corporate partners play in developing pathways for opportunity youth.
Learning from employers, youth leaders, community organizers, policy makers, and educators is just one of the many reasons I'm looking forward to this year's OYIF Fall Convening in Aspen. This is a strong, passionate community of change agents, and together, we'll share our solutions for multiple pathways to success for opportunity youth. Using the collective impact approach, coupled with technical assistance from AFCS and Jobs for the Future, shows early promise. As a philanthropist and an advocate for closing the skills gap, that's exactly what I like to see.
To learn more about New Skills at Work click the link to watch the video with Chauncy Lennon and AFCS Chair Melody Barnes: http://www.jpmorganchase.com/corporate-responsibility/closing-the-skills-gap-video.
If you are unable to attend this year's OYIF Fall Convening, or want to learn more about using collective impact to find meaningful pathways to employment and education for Opportunity Youth, follow the Aspen Forum for Community Solutions on Facebook and Twitter.