blog
October 14, 2014
This blog is the third in a series leading up to the Opportunity Youth Incentive Fund (OYIF) Fall Convening in Aspen, October 27-29. In this piece, we hear from the Hopi Opportunity Youth Initiative about the unique challenges they face in re-engaging Opportunity Youth, the pathways they use to reach the young people in their community, and more. 
A Tale of Two Grantees – Part 1
By The Hopi Opportunity Youth Initiative
For outsiders or non-natives, Hopi can sometimes be a head turner. Remote (the nearest border towns are 100 miles away over expansive desert), culturally isolated (stone and adobe villages located high on top of rocky mesas), and ancient (Hopi have lived here for at least 1200 years), the Hopi lands (or tutskwa) feel far removed from the rest of the world.
The landscape creates for difficult conditions. Resources are hard to come by, and we've learned that whatever the wind carries in will one day also be carried away. As well, both the cultural divide and cultural dissolution pose their own particular challenges for Hopi youth: rather than learning to walk in two worlds, our most disconnected and traumatized youth find it difficult to walk in either.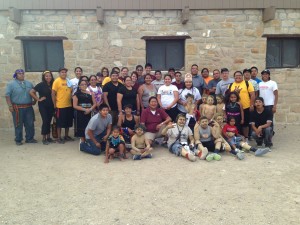 Early on, we decided that our pathway development needed to leverage Hopi strengths. Our solutions needed to be low to the ground and rely on local community resources. They needed to be rooted in the Hopi culture. And they needed to leverage the web of family, clan, and village relations that have sustained us in the past. We have learned that our human capital will probably prevail long after financial capital goes away. It's important for outsiders to remember that Hopi has only adopted a cash economy within the last 100 years; up until then our economy was based on an agriculture and trade.
These guidelines have informed nearly every part of our program.  For example, rather than relying exclusively on agencies and institutions for our data collection, we have chosen to leverage village and community networks to "crowd-source" information directly from youth themselves.  Not only will we ask individuals about their own educational and career status, but we are also piloting a Peer Reflection Survey in which we will ask youth to reflect on the attainment of their 6th grade classmates. Although agencies may not know the status of youth disconnected from support systems, their peers often times know quite a bit about their conditions. And by reflecting about their peers, we hope to create a framework for them to provide support and mentoring for one another.
At the last Aspen convening we were struck by how opportunity youth first found ways to connect not with agencies or services, but with their peers who had shared experiences.  Denver youth spoke of how friends on the street served as a surrogate family, and how caring about another person (a child or a sibling) was the first step in learning to care for themselves.  These examples affirmed some of our insights about Hopi youth – that peer support held far more value than support from the adult world that had often times failed them.
In addition, we were not surprised to learn that Hopi youth were interested in service, that they wanted to prove their worth to their community and the larger world. Hopi culture is deeply rooted in its values, and as a rule has a strong service orientation. As a consequence, we imagine creating a service-learning program (or Hopi Corps) that would allow youth to assist and even drive the restoration of their community.
Lastly, Hopi youth also expressed a deep need to reconnect with their language and culture. The resiliency of our most challenged youth must be fostered by helping to rebuild their own culture confidence and competence. As they come to learn who they are as individuals, they must also come to see who they are as Hopi. In supporting them in this journey, we hope to help to build the self-confidence that will allow them to gain the skills needed to successfully walk and live in two worlds.
As we approach the next OYIF Fall Convening, we are excited to introduce our collaborative partners and members of our Steering Committee and Data Advisory Board to the larger grantee community. We hope their time at Aspen will excite them about the innovations emerging in other parts of the country, will allow them to share ideas, and reinvigorate their efforts and contributions.
As with any community that has a chance to reunite, there will be plenty to contribute and more to learn, and many opportunities to further ignite our passion and commitment to this work.